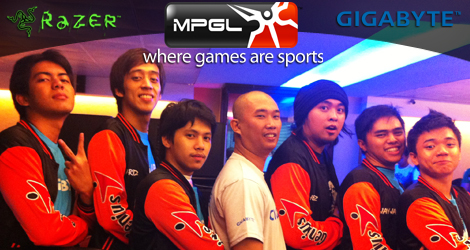 80 participating teams, 10 brackets to endure, 6 Top twelve matches, 3 finals matches, only 1 champion; that's the Gigabyte™ Mineski Pro-Gaming League League of Legends Tournament. Last Sunday – July 19, summoners from all around the Metro competed in grabbing the monthly championship title. Here's a complete summary of what has happened during the GMPGL LOL tournament:
GODS 1 SCORES UPSET; MANILA AGUILAS BLAZES THEIR WAY TO TOP 12
In what would be one of the major upsets in the season, Gods I (a constant participant in most major LoL eSports tournament in the country) toppled down Wild-TNC early on the eliminations during their semi finals match for Bracket F. Meanwhile, the Manila Aguilas successfully blazed their way through the Bracket D Single Eliminations eventually securing a slot at the Top 12.
THE FINALS WITHIN GRASP
Teams XPC, Justice, LXIX, Manila Aguilas, Gods 2, Gods 1, Rerun, Eclipse Pro Gaming and McRory were eventually joined in by Wild.TNC again on the playoffs as they battle it out for the much coveted GMPGL-LoL 4-7 championship title. With all of them at equal footing and one step closer to the top, the teams were so full of determination and things just went much more serious. One of the most notable matches was that between Manila Aguilas and Wild-TheNet.com, the new rivals in LoL PH eSports scene. In a show of force that could already pass for a championship match, the Manila Aguilas and Wild-TNC gave us one hell of a match. Once the clouds of war has settled, Wild-TNC emerges as the victor.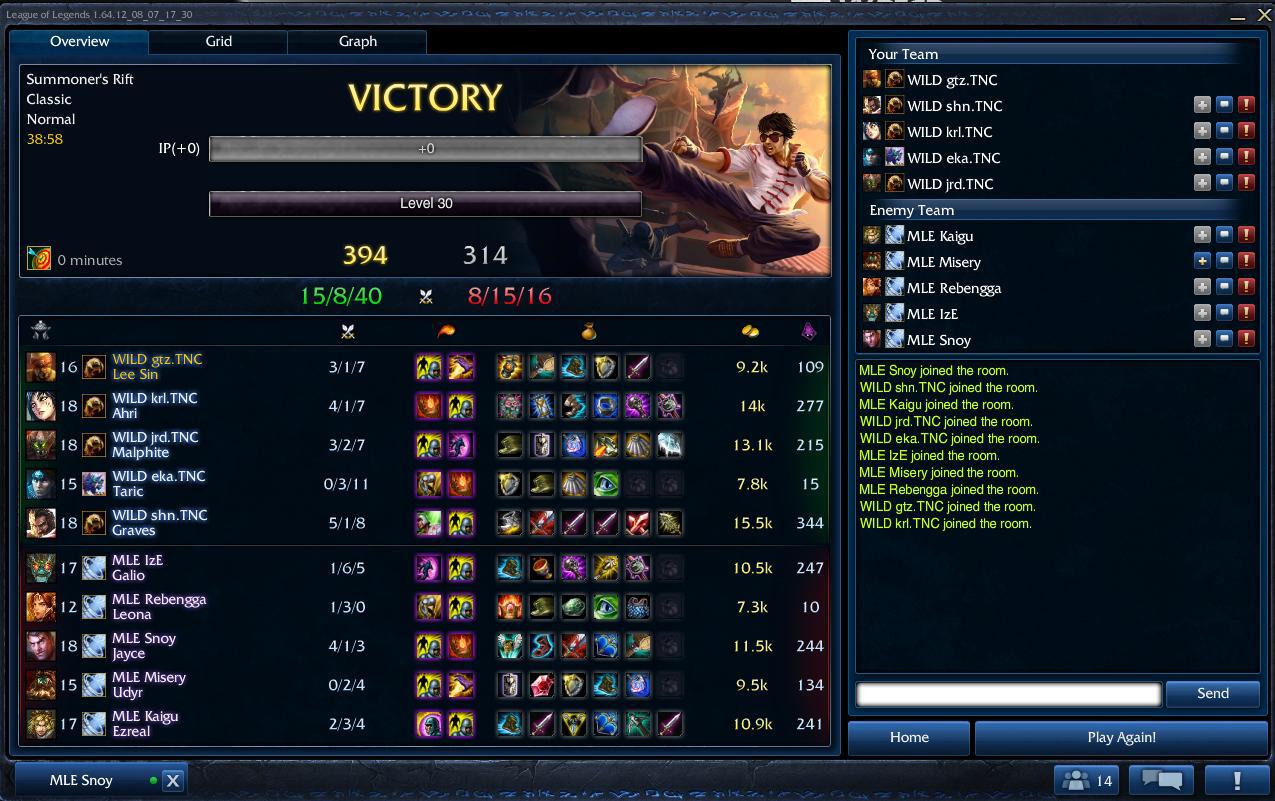 Game Recap provided by MET Director Marlon "Chunkie" Marcelo
In a very surprising move Wild.TNC opted a very risky invasion for MLE's Red buff (Lizard Elder Golem). They were successful in invading thus forcing MLE to regroup and proceed to their usual laning with 1 top (Jayce), 1 mid (Galio), 2 bottom (Ezreal + Leona), 1 jungle set-up (Udyr). However to the shock of all spectators and players Wild.TNC made another risky strategy of pushing the top tower with 3 of their heroes occupying the top lane (Graves, Taric, Lee Sin). They were successful destroying the tower under 2minutes of the game as newly enlisted MLE Snoy can't do anything with his hero Jayce.
With Wild.TNC Shin (ADR carry) getting early gold the suprise is not yet over as they shifted back again to the usual double bottom lane while Wild.TNC Jord took over the top lane with his Malphite. By the 12 minute mark Wild's strategy is obvious. Let MLE's Jayce farm all day at the top lane while they kill and push all middle and bottom towers.
MLE had its fair share of runs but it was only in the top lane as MLE Snoy, considered to be one of the best top laners in PH smashed Wild.Jord's Malphite killing it two times in 1on1 combat a truly amazing feat. However it was also frustrating as MLE Snoy cannot push because of the early tower down in the 1st turret. If he pushes, he risks himself overextending and potentially getting ganked.
One summoner skill prevailed on this match. Wild.Jord's teleport on his hero Malphite was the big difference. With this spell combined with Malphite's Ultimate (Unstopabble Force) ensured that every potential clash would favor team Wild. Since MLE Snoy is farming top, it is always a 5v4 situation. This strategy was used into Wild's advantage and eventually would win the game for them.
Lanes Summary
Top: MLE
Mid: Wild.TNC
Bottom: Wild.TNC
Jungle: Deadlock
Dragon Kills: Wild.TNC
Baron Kills: Wild.TNC
HISTORY IN THE MAKING
Wild-TheNet.com made use of their momentum and slingshot their team into the Finals against McRory. Wild-TheNet.com eventually showed that they are a force to be reckoned with by winning two consecutive games in the best-of-three match and by doing so, taking home the Gigabyte™ Mineski Pro-Gaming League League of Legends championship title for the third time.
History has been made but the it doesn't end there yet. One more leg before the Finals and one more chance to make it big! See you at the next leg this coming September!

To view the complete tournament brackets, you can go to: http://www.mineski.net/news/1398/gmpgl-4-7-league-of-legends-live-updates
Photos courtesy of Mineski Events Team