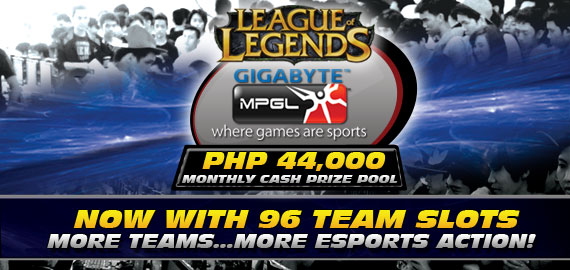 The rainy days may be here and summer over but things are just heating up as one of the country's premier league, the Gigabyte Mineski Pro-Gaming League, kicks off with the third leg for the GMPGL-LOL. Now with 96 team slots, aspiring summoners now has more chances to take part in this prestigious event and take a bite of the PHP 44,000 cash prize pool. Brought to you by Mineski Events Team, in partnership with Garena Philippines and Razer
Will WILD-TNC still keep their hold on the crown? Will the Manila Aguilas snatch it from them and redeem themselves? Will Bida Gaming rise up again and take back what was theirs? or will another team rise up from the shadows and prove themselves worthy? A lot of possibilities await, but only one shall be crowned as champion!
Brought to you by Mineski Events Team. Sponsored by Garena Philippines and Razer
Register now and prove yourselves that you could compete with Luzon's best League of Legends teams!
TOURNAMENT INFORMATION
When: Sunday, July 22
Where: Mineski Infinity, Morayta, Manila
Registration Fee: Free, Free PC time
Call Time: 8:00 AM to 8:30 AM for Online Reserved teams; Walk-in registrations opens on 8:45 AM
NO REGISTRATION FEE, FREE PC TIME. TEAM CAP RAISED TO 96
LOCATION MAP
Just like last time, this leg will have a prize pool of 44,000 PHP divided among the top 8 finishers in the following breakdown:
1st Place – P20,000 + Razer Messenger Bag (5), T-Shirt (5) and Beanie (5)
2nd Place – P10,000 + Razer Keyboard Bag (5), T-Shirt (5) and Beanie ( 5)
3rd Place – P5,000 + Razer Beanie (5)
4th Place – P3,000
5th Place – P1,500
6th Place – P1,500
7th Place – P1,500
8th Place – P1,500
REGISTRATION PROCESS
Walk-in registration:
Walk-in registration will be available during the event day.
Go to Mineski Infinity and ask for the registration forms from the marshal's desk.
Fill-up and sign the forms then submit.
Get your clan tags and your respective PC assignments.
Wait for the event to start and listen to the opening remarks.
Online Registrations:
Note: Registering online only guarantees your participation if you come to the event within the hour following the call time. Your team must be complete (at least 5 members) upon your arrival.
Online reservations will be open starting today until the event day.
Kindly post your reservations at the Mineski.Net Registration Thread for GMPGL-LOL 4-6 and use the sample format below:
———-
Team name: Mineski
Contact number: 0927-123-MSKI
Contact e-mail: mineski@ymail.com
Full Names of Participating Players:
Tami Buchanan
Bobbie Malone
Brandi Howell
Marianne Townsend
Marguerite Mendoza
Hazel Graves (optional)
After making a post, your team should appear on the list once it gets updated by an admin.
———–
FORMAT
Official Sponsors