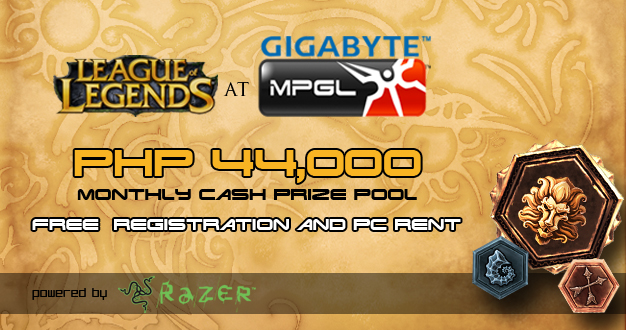 Summoners, it's your time to shine as Garena Philippines and Mineski Events Team partner up to bring you The Gigabyte™ Mineski Pro-Gaming League LEAGUE OF LEGENDS TOURNAMENT! You are not dreaming summoners, League of Legends, the #1 MOBA/RTS game in the world is now included in the #1 eSports event in the country!
With over PHP 308,000.00 in cash and gear prizes courtesy of Razer at stake for the winning teams during the course of GMPGL, LoL summoners from all over the country will surely battle it all out for supremacy, for honor, for glory, and for the chance to be named as the best LoL team in the nation. With the addition of LoL to the lineup of games that we give every month, this division has the biggest prize pool in the league. Every month, GMPGL will give out P44,000 to the top 8 teams that will stand out during the tournament.
Similar to the other games in GMPGL, LoL will be having multiple legs over the course of the fourth season of GMPGL. Each leg is open to all teams who wish to participate, and top finishers will earn accumulative points. The accumulated points by each team will then determine those who are worthy of qualifying for the GMPGL LoL Grand Final event.
Schedule:
I'm sure you're so excited to put an ink around these dates. So here they are:
April 22, 2012 – Mineski Infinity Taft*
May 20, 2012
June 17, 2012
July 22, 2012
August 19, 2012
September 23, 2012
October TBA
*For the first leg. All of the above scheduled LoL events will take place in various Mineski cybercafes around Luzon. Further details shall be posted soon.
Prize Pool:
So we mentioned before that we'll have at least PHP 308,000 at stake throughout the season with P44,000 every month. Here's the specific break down for the top placers of each leg:
1st Place – P20,000
2nd Place – P10,000
3rd Place – P5,000
4th Place – P3,000
5th Place – P1,500
6th Place – P1,500
7th Place – P1,500
8th Place – P1,500
But wait, there's more!
In addition to the love and excitement that y'all been feeling for the GMPGL LoL tournament leg:
Registration and PC Rentals are ABSOLUTELY FREE!!!
So expect the unexpected, prepare with all your heart, and fight like a summoner that truly upholds the Summoner's Code. To all the fans of League of Legends, this is the tournament that you've all been dreaming for since its humble beginnings in our country. Don't you dare miss this or you will be sorry for not experiencing the action and drama that might unfold. Summoners from all over the Philippines:
ARE YOU READY TO BE LEGENDARY?
For more updates, visit www.mineski.net