One of the world's leading PC components company, MSI, have now strengthened their vow towards uplifting eSports in the Philippines by bringing to you the
MSI Overdrive eSports: Intensified 2012
this coming
July 6 to 8
at the
SM North EDSA Annex, 4th Floor Cyberzone Event Center.
The eSports intensity to be experienced is destined to be unmatched as the top eight League of Legends teams from across the country shall test their teamwork and gaming prowess for the right to take home the PHP 20,000 first place cash prize in the League of Legends Invitational Tournament. 
Invited teams are as follows:
Bida Gaming
WILD-TheNet.com
Juz
DK
Prime
Chunky
Manila Aguilas
Laya Gaming from Iloilo
And when you think it could not get any better than that, MSI has invited Manuel "LaMia" Mildenberger and Patrick "Pheilox" Walpuski from team Fnatic (League of Legends Season One Champions) for the Beat It! All-Star Game. In the All-Star game, eight of the top League of Legends Summoners from the Philippines shall team up with the Fnatic members and the power to choose who they will be rests in your hands! Exercise your right to be part of history by taking the following steps:
1. Go to the MSI Philippines official Facebook page. Hit the LIKE button if you're not a fan yet.
2. Go to the photo album for the  Beat It! LoL All-Star games nominees then vote for your top 8 LoL players by liking their photo.
**50% of the criteria on who will be part of the All-Star event will come from the number of "likes" on the player's photo while the remaining 50% will come from the assessment of MSI personnels, Garena Game Masters, Shoutcasters, Team Managers, and their fellow nominees.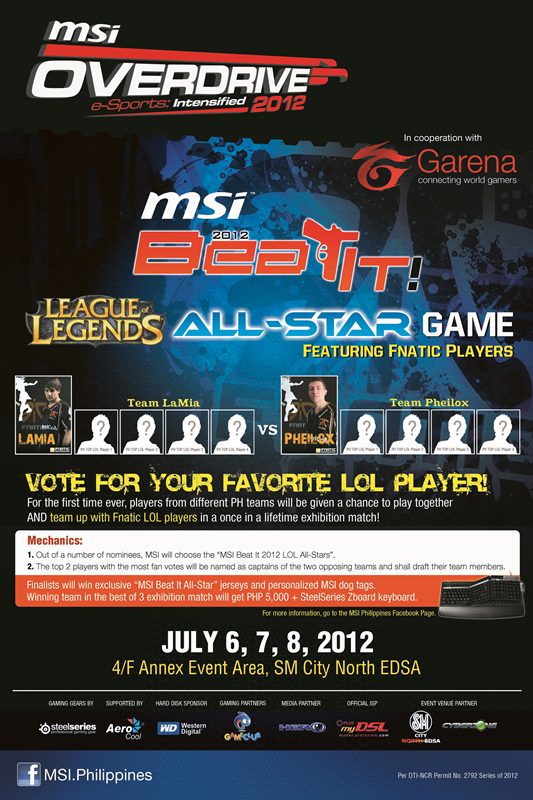 But it doesn't end there! The MSI Overdrive will also be hosted by non-other than the ultimate sidekick of Boy Pick-Up; former MTV VJ,
Eri Neeman a.k.a. Boy Back-up
. You can also feast your eyes on amazing creations from cosplay enthusiasts who will be led by none other than the "Cosplay Goddess"
Alodia Gosiengfiao
. Witness too a one-of-a-kind performance by
Spongecola
 which will surely intensify things even further.
You wouldn't want to miss all of the action and excitement! Head out to the SM North Annex Event Hall on July 6-8 and witness eSports intensified!
If you can't make to the event then no need to worry as we will also bring the excitement to you via our livestream. Stay tuned for more info on how to catch the action.