Fights Get Much Closer
During last weekend's GPL matches, all eyes were focused on the Singapore Sentinels as they prepared for their rematch against the seemingly unstoppable Taipei Assassins. As both teams clashed, the most epic game in the league to date unfolded. TPA tried to catch the Sentinels off-guard by running the same strategy of swapping the top and bottom lanes that SGS ran two weeks ago. SGS, however, was too well prepared and the plan backfired. The Singapore Sentinels went on to win the match in a landslide 20-5 victory.
Also being watched closely was the fight for the 3rd place in the league. The Manila Eagles, Kuala Lumpur Hunters and Saigon Jokers were all tied up at the start of the week but a poor showing by KLH resulted in their dropping down in the league. MLE played a flawless game against KLH redeeming themselves after a lackluster performance in the last few weeks. At the same time, the Bangkok Titans struggled to end their losing streak and though they came ever so close in their match against KLH they failed to score a win.
You can watch the live broadcast via the Garena PH Youtube Channel, the Manila Aguilas website or simply through the League of Legends PH game lobby which will show GPL matches from 8 to 10 PM every Friday to Saturday.
For more information on the current league standings and replays of previous matches, visit the official GPL website!
Week 7 Match Reports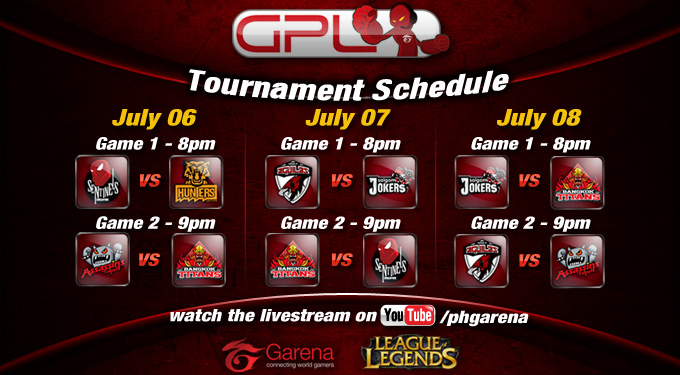 Friday – July 6, 2012
Game 1: Singapore Sentinels vs Kuala Lumpur Hunters
Game 2: Taipei Assassins vs Bangkok Titans
Saturday – July 7, 2012
Game 1: Manila Eagles vs Saigon Jokers
Game 2: Bangkok Titans vs Singapore Sentinels
Sunday – July 8, 2012
Game 1: Saigon Jokers vs Kuala Lumpur Hunters
Game 2: Manila Eagles vs Taipei Assassins
Garena Philippines broadcasts will be available in both 780p (High Def) and 480p versions courtesy of KTS Game Media