Kog'Maw
the Mouth of the Abyss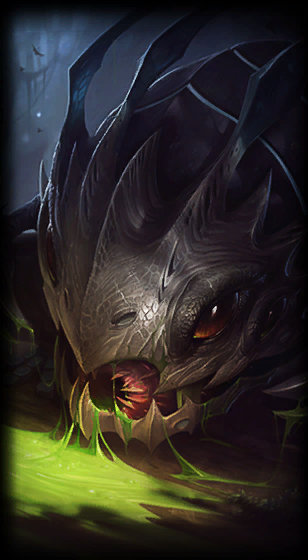 Belched forth from a rotting Void incursion deep in the wastelands of Icathia, Kog'Maw is an inquisitive yet putrid creature with a caustic, gaping mouth. This particular Void-spawn needs to gnaw and drool on anything within reach to truly understand it. Though not inherently evil, Kog'Maw's beguiling naiveté is dangerous, as it often precedes a feeding frenzy—not for sustenance, but to satisfy its unending curiosity.
---
DETAILS
---
ATTACK:
8/10
DEFENSE:
2/10
MAGIC:
5/10
DIFFICULTY:
6/10
---
TIPS:
---
Kog'Maw can outrange most champions with his Bio-Arcane Barrage ability.
Use Void Ooze to set up a perfect Living Artillery.
Make the most out of your Icathian Surprise.
---
TIPS: IF ENEMY
---
Kog'Maw doesn't have a good escape ability, so he is especially prone to ganks.
Run away from Kog'Maw after he dies!!!!
The range on Living Artillery increases each rank.
Bio-Arcane Barrage allows Kog'Maw to kill Baron Nashor extremely early. It can be valuable to ward Nashor when Kog'Maw completes his Blade of the Ruined King.
---
STATS
---
HP: 534
HP / LEVEL: 88
MP: 322.2
MP / LEVEL: 40
MOVEMENT SPEED: 325
ARMOR: 24
ARMOR / LEVEL: 3.5
SPELL BLOCK: 30
SPELL BLOCK / LEVEL: 0.5
ATTACK RANGE: 500
HP REGEN: 3.75
HP REGEN / LEVEL: 0.55
MP REGEN: 8.676
MP REGEN / LEVEL: 0.7
CRIT: 0
CRIT / LEVEL: 0
ATTACK DAMAGE: 61
ATTACK DAMAGE / LEVEL: 3.11
ATTACK SPEED OFFSET: -0.06
ATTACK SPEED / LEVEL: 2.65
---
SPELLS
---
CAUSTIC SPITTLE

Kog'Maw launches a corrosive projectile which deals magic damage and corrodes the target's armor and magic resist for a short time. Kog'Maw also gains additional attack speed.

Cooldown: 8 / 8 / 8 / 8 / 8 /
Mana Cost: 40 / 40 / 40 / 40 / 40 /
Range: 1175
BIO-ARCANE BARRAGE

Kog'Maw's attacks gain range and deal a percent of the target's maximum health as magic damage.

Cooldown: 17 / 17 / 17 / 17 / 17 /
Mana Cost: 40 / 40 / 40 / 40 / 40 /
Range: 530
VOID OOZE

Kog'Maw launches a peculiar ooze which damages all enemies it passes through and leaves a trail which slows enemies who stand on it.

Cooldown: 12 / 12 / 12 / 12 / 12 /
Mana Cost: 80 / 90 / 100 / 110 / 120 /
Range: 1200
LIVING ARTILLERY

Kog'Maw fires an artillery shell at a great distance dealing magic damage (increased significantly on low health enemies) and revealing non-stealthed targets. Additionally, multiple Living Artilleries in a short period of time cause them to cost additional Mana.

Cooldown: 2 / 1.5 / 1 /
Mana Cost: 40 / 40 / 40 /
Range: 1200/1500/1800