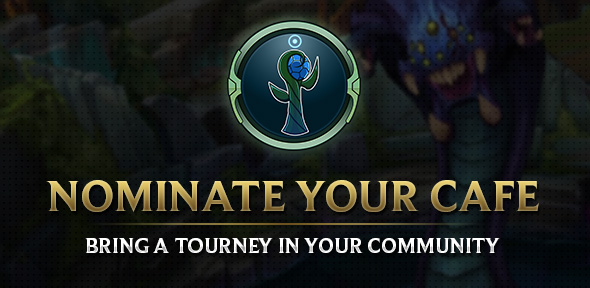 Have you ever wanted to compete in an official League of Legends tournament but none ever happen in your area?
Have you ever dreamt of winning Teemo Cup shirts and ballers but all the tournaments are just too far?
Have you simply wanted to make your favorite internet cafe your winning ground?
You can help make that happen! Nominate your cafe and bring a tourney in your community!


1) Find an internet cafe in your community where you want us to organize a tournament.
2) Get the following cafe details: Cafe Name, Address, and Contact Number.
3) Nominate to us through this form: http://bit.ly/NominateYourCafe
4) If there is an available slot in that area, our team will contact the cafe you suggested to us.
Q: Will I receive RP for nominating a cafe?
A: No. But! There's a big chance that we will organize a tournament and bring the League of Legends fun in your community.
Q: I'm a cafe owner, can I nominate my cafe?
A: Yes! And you can browse through the requirements here: https://lol.garena.ph/tournaments/