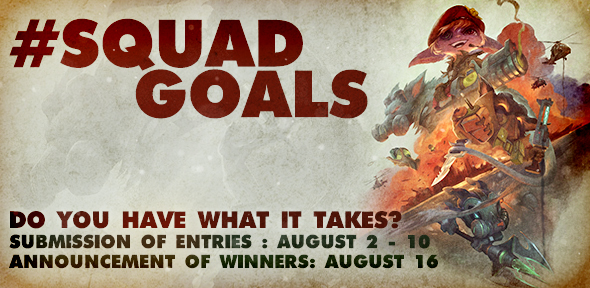 Greetings Summoners!
We are pleased to bring you a team oriented contest entitled "#SquadGoals". Top three entries stand to win...
ANY OMEGA SQUAD SKIN of their choice complete with CHROMA and an OMEGA SQUAD TEEMO shard.
Seven (7) runner-up teams will also receive 150 RP for each member.
Here are the mechanics:
1. Teams will need to dress up in any LoL themed attire. This could be their favorite champ/skin/object/neutral camp.
2. Teams will then take a photo and post it on Facebook complete with their team name and the hashtag #LoLPHSquadGoals.
3. Make sure all team members are tagged on the photo and don't forget to make the post 'Public'.
4. Submission of entries will be from August 2 to 10 and the announcement of the winning teams will be on August 16.
5. We will be sending a private message to our winners so you don't have to include your IGN or GUID.
6. Prize insertion will take 2-3 days after the announcement of winners.
Rules:
- Teams can have a maximum of 5 members and minimum of 3 members.
- Only one (1) entry per team. Multiple entries will lead to disqualification.
- No hashtag means the entry is void.
This contest is all about showing your creativity and your team's love for League of Legends!
We look forward to seeing your photos!
GLHF!
LoL PH Team