Worlds 2017 Community Event
Posted on 10/02/2017 by LoL PH Admin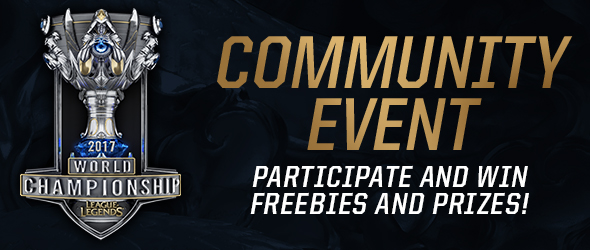 The Finals for Worlds 2017 is just around corner and just because you're stuck at home and not in China doesn't mean you have to miss out on the exciting matches and celebrations with your team!
We have been live streaming Worlds 2017 for the past two weeks and now and we're very excited to move on to the more crucial stages of the tournament. During these next stages, we will have a prize pool of over 100,000RP worth of in-game prizes so read on to partake in any of our three events for our
Worlds 2017 Community Event
.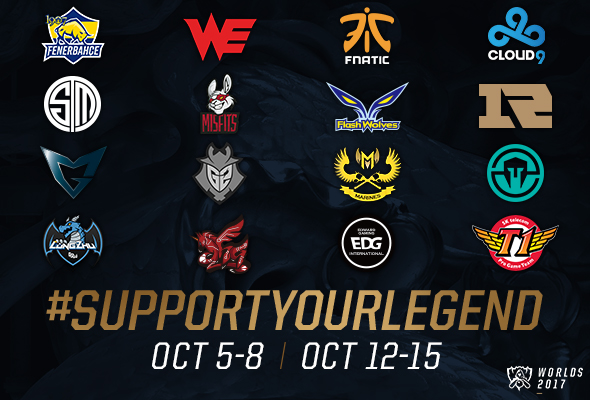 #SupportYourLegend
Tournament Stage: Group Stage
Mechanics:
Participants of this promo will choose a team who qualified for the Group Stage of the 2017 World Championship.
Participants will have to change their Facebook Profile Picture by adding the custom border based on the team they support (We will provide 16 designs - 1 for each team in the Group Stage) and post it publicly with the hashtag #SupportYourLegend
You can add the border by visiting this site and then by searching your team's acronym + PH (example: SKTPH or TSMPH) or by directly clicking the link to your team's border below:
If participants team wins, they will get the chance to receive an in-game Emote of the respective team. (2 winners will be randomly chosen per game.)
If participant already owns the emote, they get a random esports skin instead.
Winners will be contacted via Facebook through private message by either Neme Garena, Mgcstck Garena, or Dabski Garena.

Always remember that Garena employees will NEVER ask for your account password.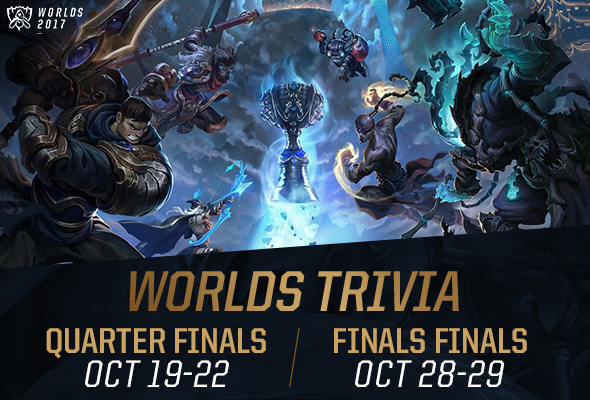 Worlds Trivia
Tournament Stage: Quarterfinals - Semifinals
Mechanics:
A Google Link will flash during each Standby Screen.
Participants of this promo will have to access the link and complete the form correctly.
First 2 participants will win the in-game rewards per game.
Prizes are:

Additionally, every participant is entitled to one (1) raffle entry to win the daily prize.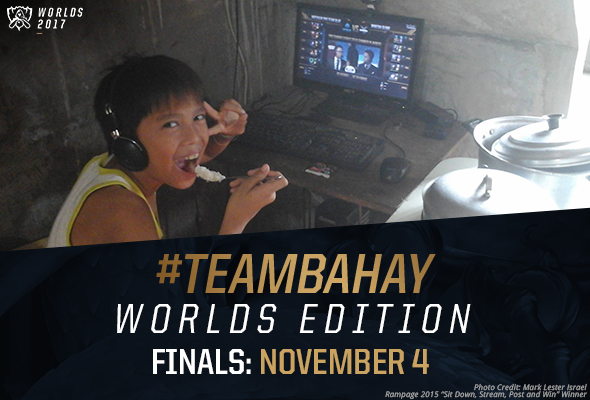 #TeamBahay Worlds Edition
Tournament Stage: Grand Finals
Mechanics:
Participants of this promo should take a creative photo of how they watch Worlds
Participants will then publicly post their photo on Facebook with the hashtag #TeamBahay #HowWeWorldsPH

Winners stand a chance to win a Challenge and Conquer Bundle or Championship Bundle (3 Skins per bundle).

Challenge and Conquer bundle (Challenger Ahri, Challenger Nidalee, Conquerer Karma, and champs)
Championship Bundle (Pick three (3) from the following options: Championship Zed, Championship Shyvana, Championship Kalista, Championship Riven 2016, Championship Thresh, and Champs).

Winners will be contacted via Facebook through private message.