Garena All-Star 2017 Announcement
Posted on 10/18/2017 by eSports Team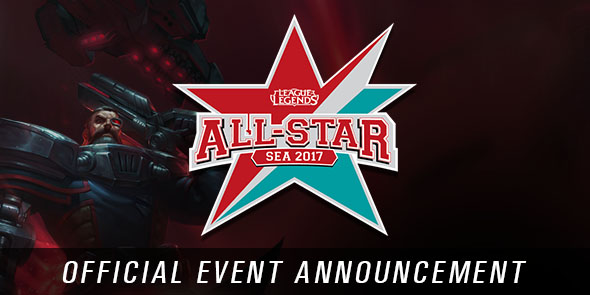 Mark your calendars now! The 2017 Garena All-Star will be coming back to Ho Chi Minh City, Vietnam on November 20-26.
We are excited to announce that the GPL has earned a direct slot to the 2017 All Star Event (ASE) in Los Angeles as a result of the GPL's strong competitive performance this year and placing within the top 8 regions at the 2017 World Championships.
Similar to last year's Garena All-Star, the winning regional team of 2017 Garena All-Star will take the slot for ASE. Participants will be:
Vietnam(VCS A)
Thailand(TPL)
Philippines(PGS)
Malaysia(TLC)
Singapore(SLS)
Indonesia(LGS)
Read on to learn more about the upcoming Garena All-Star this winter.
Dates: November 20 - 23
Format
6 regional teams of pros as voted by fans
Bo1 double round robin
Top 4 teams will advance to Bo5 Semifinals with matchups determined by Group Stage results
Dates: November 25 - 26
Format
Semifinals and Grand Finals
Bo5 single eliminations
Winning team will be qualified for 2017 ASE
â—‹ Fans from the six competing regions will vote for 1 player per position
â—‹ Three (3) pro players were chosen from each position (including sub) by qualified esports experts that will comprise the All-Star voting pool.
â—‹ Fans can only vote for pros in their region
â—‹ Up to 2 players per team
â—‹ Voting will open in late October. Stay tuned for more info
Location and Tickets: More information regarding venues and tickets will be available in the coming weeks, stay tuned!
Visit lol.garena.ph for more updates!