Essence Emporium Now Live!
Posted on 11/08/2017 by LoL PH Admin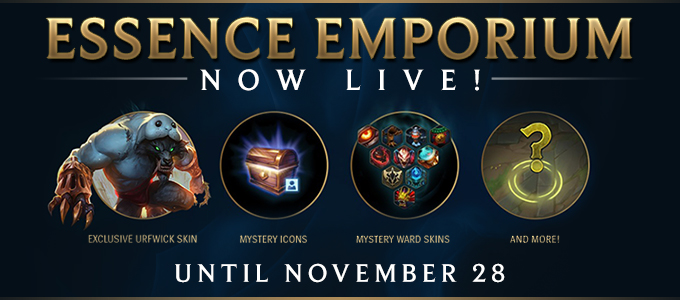 ESSENCE EMPORIUM
Welcome to the Essence Emporium! We've got gemstones, we've got emotes, we've got icons. Lots...of icons.
Hurry up and trade in your Blue Essence for these exciting items, as they will only be available until November 28!
| | |
| --- | --- |
| Store Item | BE price |
| Mystery icons | 1500 BE |
| Chromas | 2000 BE |
| Mystery chibi icons | 2500 BE |
| Mystery wards | 4900 BE |
| Blue essence ward | 6000 BE |
| Make it Rain blue essence emote | 50k BE |
| Money bags blue essence emote | 75k BE |
| Gemstone Knight Icon + Gemstone | 50K BE |
| Gemstone Prince Icon + Gemstone | 75k BE |
| Gemstone King Icon + Gemstone | 100k BE |
| Urfwick (w/ IP Edition Border) | 150k BE |