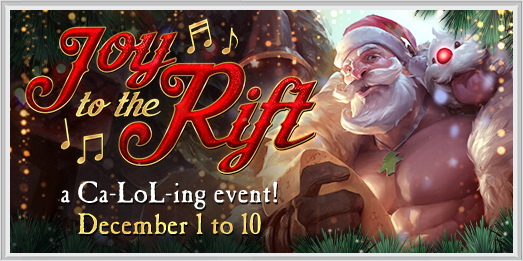 Season's Greetings, Summoners!
Christmas is right around the corner and what better way to celebrate it with a FREE Snowdown skin!
For this event we will need you Summoners to change up famous Christmas songs and add a LoL theme to it!
Read the mechanics below:
Change the lyrics of any famous English or Filipino Christmas song by adding League of Legends themes and words to it.
The funnier and wittier, the better! Here's an exmple:
Original song:

Si-lent night, ho-ly night, all is calm, all is bright
Changed lyrics:

Jung-ler's farm, where-'s my gank?, don't invade, without my ward
Summoners will choose either to change the lyrics of one (1) whole verse or chorus. An example would be:
[VERSE]
I don't want a lot for Christmas
There is just one thing I need
I don't care about the presents
Underneath the Christmas tree
I don't need to hang my stocking
There upon the fireplace
Santa Claus won't make me happy
With a toy on Christmas Day
OR
[CHORUS]

Joy to the World , the Lord is come!
Let earth receive her King;
Let every heart prepare Him room,
And Heaven and nature sing,
And Heaven and nature sing,
And Heaven, and Heaven, and nature sing.
Criteria for judging:
40% LoL themes used
30% Wittyness
30% Creativity
Prizes:
Top 20 entries will receive ANY Snowdown skin of their choice.
Winners will be announced on December 15. Prizes will be credited 5 working days after the event.
Submit your entries HERE