TLDR:

TNC Pro Team & Infuzed Esports retain their PGS spots.
Barcy's X Rage Esports & ODP are the two new teams in the PGS from the Piltover's Finest.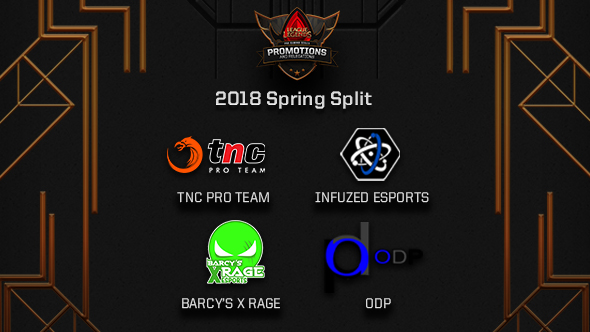 The PGS Promotions and Relegations once again weeded out those who are no longer worthy, and elevated teams that are ripe and ready to participate in the country's premier League of Legends professional league.
Experienced Rookies
Both TNC Pro Team and Infuzed Esports sported almost brand new rosters in the Promotionals, opting to field essentially 'experienced' rookies. For TNC, their top laner Ikaros was a part of the Xplicit Esports roster that dropped out in the PGS a few years back. Armed with abundant experience in both amateur and semi-pro tournaments, Ikaros was a pivotal player that led a young TNC Pro Team back into PGS against Sanzuwu Yin.
Meanwhile, Infuzed Esports' new roster was highlighted by LCL champions Iconiq and Neep, paired with veterans like Karlculated, Luxuria, and returning out of retirement, Rebengga.. Iconiq particularly impressive as a 'rookie', able to hold out his lane or dominate when needed. With this roster Infuzed Esports easily swept Espionage in the their best of 3 series to retain their spot in the 2018 Pro Gaming Series Spring Split.
Unfinished Business
Back when Technological Institute of the Philippines won in the 2016 LoL Collegiate League Summer Term, they had a chance to enter the PGS as on the teams in the Promotionals. This team championship squad was led by the talented Jaime Reyes, who looked like he can actually go toe to toe against other mid laners in the PGS. Unfortunately, TIP failed to make it past the Promotionals and had to go separate ways after that term. Now Jaime is back on track to fulfill his PGS dream, along with Lando, who was a part of the TNC Pro Team for the 2017 season. They dominated the Piltover's Finest Playoffs enroute to a spot in the 2018 PGS Spring Split.
On the other hand, Hechizo and Akyl, former PGS players who still have a lot to prove in the country's premier League of Legends professional league, went back to the Piltover's Finest hoping to lead young and talented players with dreams of making it to the PGS. In the Promotions and Relegations, they faced Jengski Esports who also fielded rookies. But Hechizo and the rest of ODP's teamwork and experience proved to be too much, as ODP secure a spot in the Spring Split of PGS.
---
Catch all the action live on: esports.garena.ph/stream
Hungry for more PGS updates? Like the Pro Gaming Series Official Facebook Page!