Lion Dance Challenge - Feb 16 to 18
Posted on 02/13/2018 by LoL PH Admin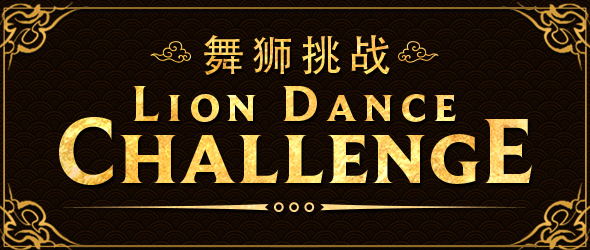 Celebrate Chinese New Year and groove to the Lion Dance together with your friends from Feb 16 to 18!
Event Mechanics:
Form a party of 5 Summoners.

Win 5 Normal Blind Pick games together with your friends.

Duration of the event is from February 16 to February 18.

If you complete the Lion Dance Challenge, you'll receive:





---
FAQS:
Do I need to team up with summoners on my Friends List?
Can I play with an incomplete team to qualify for the challenge?
Will Ranked games count?
Do I need to win all five (5) games in one day?
We started our game before

12 midnight

feb 18

but we won that game past

12 midnight

, will that game count?
That win will be counted. Games are counted for the day they were started (before

12 midnight

), regardless if the game was extended to the next day.
I don't have the champion for the skin, will I still get my rewards?
What if I already have the skin will I get another reward?
When will I get my rewards?