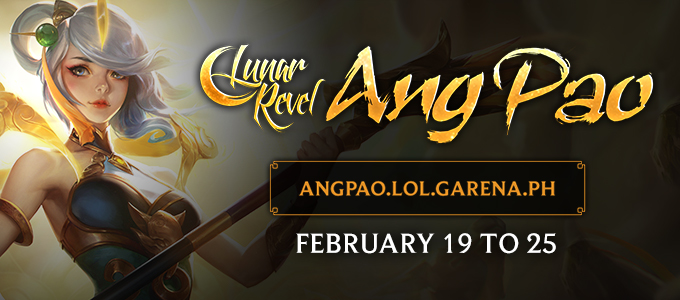 1. What is the "Lunar Revel Ang Pao" event all about?
We're giving you another chance to claim Lunar Revel tokens and loot for you to exchange with limited edition Lunar Revel items such as the Golden Chromas, Loading Screen Borders and more! Each Ang Pao consists of different prizes. The Red Ang Pao for 19 RP, the Golden Ang Pao for 79 RP, and the Jade Ang Pao for 199 RP.
2. How long does the event last?
The event starts on February 19 to 25.
3. Is there a purchase limit for the chests?
Yes! The Red Ang Pao can be purchased up to ten (10) times, while the ultra savings Golden Ang Pao can be purchased for five (5) times, and Jade Ang Pao two (2) times.


4. Will all skins be available in the event?
No. Limited skins, reward skins and new skins that are launched in the past 3 months will not be available in any of the ang pao. But you can expect other rare skins such as legendary and ultimate skins to pop-up when you open the lucky envelopes.
5. How do I know if I have received the items?
Items will be transferred directly into your account. Alternatively, you can check the list of items that you have received in the "Transaction History" section.
6. Can I refund the chest after the transaction is completed?
Sorry, we do not have any refund option for this event.
7. I do not see the items in my account after purchasing the chests. What should I do?
Please allow up to 5 minutes for items to be processed into your account. Do contact our customer support if you need further assistance.
8. I did not receive my item. How can I resend it?
You can do so by going to Transaction History and click resend. You have until March 9 to resend any failed items.

9. When will Lunar Revel tokens expire?
Revel tokens will be available in the shop until March 12, 2018. After the given date, the tokens will dissappear from your loot materials, so be sure to consume all your tokens before then.