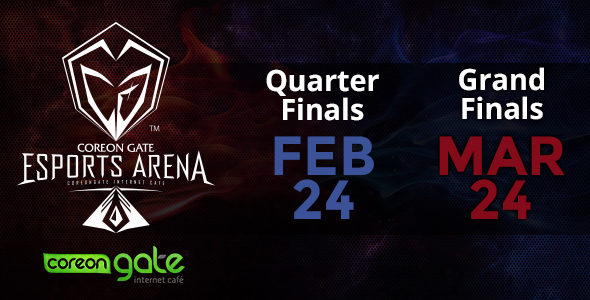 ---
General FAQs
Q: What's the date for the Quarter Finals and Grand Finals?
A: February 24 for the Quarter Finals and March 24 for the Semis and Grand Finals
Q: Do we have to pay a Registration Fee?
A: There is no Registration Fee
Q: What's the Call Time?
A: Participants are expected to be there by 10 AM roll call
Q: Can our team go to a different venue/branch?
A: Teams are pre-assigned as per shuffled bracket
Q: How did you came up with the bracket?
A: Bracket shuffling video can be found here: https://goo.gl/xgtSP9 | Image: Click
Q: Can we change our Team Name?
A: Team Name changes are NOT allowed
Q: What if our teammate cannot come to the tournament? Can we replace him with a new member?
A: Teams must retain at least 3 members from the original roster. PGS players from 2017 and 2018 cannot substitute in.
PGS Listing can be found here: https://goo.gl/Qmz2Tz
Q: I'm one of the winners on the Coreon Gate Qualifiers, and have currently joined the PGS ranks. Can i still join the tournament?
A: If a player won the qualifiers as an amateur, he will be allowed to participate in the Quarter Finals, Semi Finals, and Grand Finals.
Note that this only applies for the players who are part of the winning roster in the monthly qualifiers. They can only play for their original team and not as a substitute for another team.
PGS players from 2017 and 2018 are still not allowed to play as substitutes
---
Where to Go
Coreon Gate - Metrowalk
Teams
XVID
EXXQ
Batangas eSports
Wowowee
Meet your Doggies
Undivided Team
Cerberus
CM eSports
Panda Gaming
---
Coreon Gate - Makati
Teams
Moves Like
Team Pepsico
Belgica X Hate
Quinte Trion Squad
Belgica ft. Badong
Pawer Pap Grills
Rage eSports
Area51 eSports
Kinjaz v1
---
Coreon Gate - Vito Cruz
Teams
Illuminati
RGBXAMA
INK
JPV eSports
Doobidoobidap
Team Kalawang
Sanzuwu eSports
Butsi Gang
Kickiss
---
Coreon Gate - Malate
Teams
158 NS
Majestic Casual
Friends 4 Ever
Revised Gaming
Raven Wing
Trinix
NX1
Don Monching
Ashen