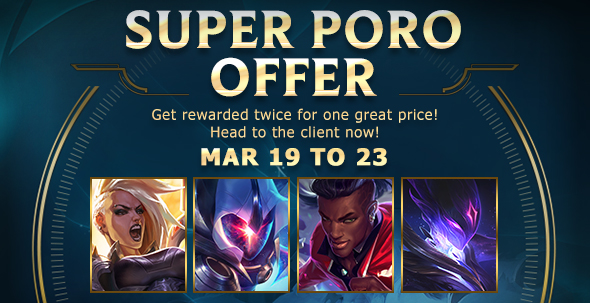 Super Poro Offer
Guaranteed twice the rewards for one epic price! Open the client to find out!
Mechanics:
1. All 250 RP epic skins available in the store will be discounted at 175 RP
2. Purchasing epic skins will guarantee additional bundled reward, containing the following items:
Hextech Chest
Random Ward Skin
Random Summoner Icon
Hextech Mystery Emote
5 Wins XP Boost
F.A.Q.
How many times can I purchase?
Limited to only one purchase per player throughout the event period. No exchange allowed after transaction is completed.
Are all the 250 tier skins available?
Limited content and new content released within the past 3 months will not be included in the event. "Skin of your choice" will be based on what is currently available in store.
I purchased but didn't get my reward automatically! Where is it?
If issues were to occur during items crediting, an automated system will attempt to credit the prizes again. Please check again in 15 ~ 30 minutes.
Can I refund my purchase?
This event is not applicable with League of Legends's store refund policy. The items obtained will be credited directly to your account.
Buy shells here
You may purchase shells through Airpay! Find retailers near you here