GPL Gifting Multiplier
Posted on 03/28/2018 by LoL PH Admin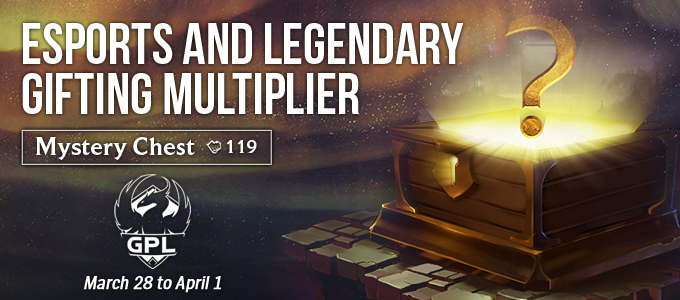 Gifting Multiplier
The Garena Premier League (GPL) begins! Before we turn our attentions to the grand stage in Bangkok, Thailand, there are some things you need to know if you want to get Legendary and eSports skins!
Every time Mineski wins a match on GPL, this multiplies the chances of getting a legendary and esports skin in a Mystery Chest worth 119 RP!
The multiplier triggers and updates after all the day's tournaments have concluded, and lasts until April 5. If Mineski wins at Game 1, the multiplier updates after Game 5 concludes.
Guaranteed 120 RP-value skins and up, which grants highter chances of Legendary and Esports skins up to 4 times!
Support our team as we enter the Garena Premier League Spring 2018!