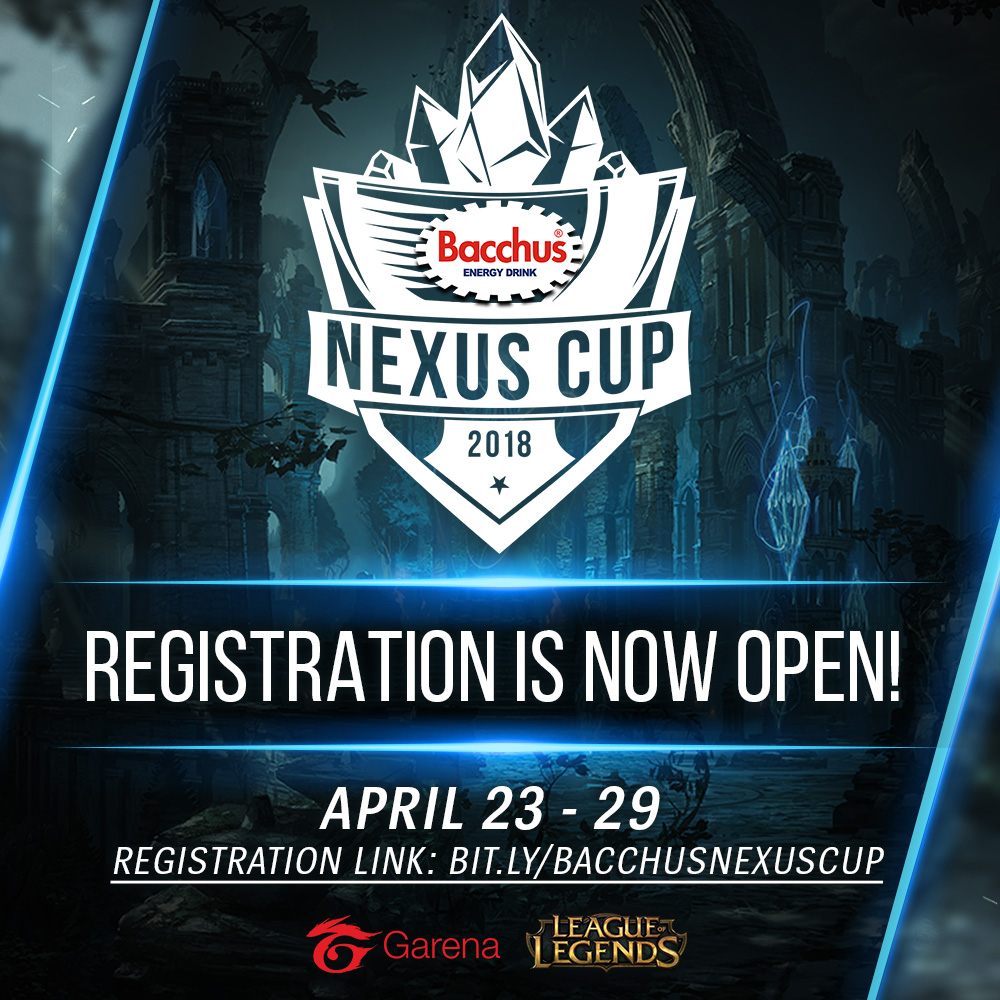 The Nexus Cup, dubbed 'Only the worthy will survive', is an Online Tournament consisting of 8 teams, with 4 teams coming from the past Pro Gaming Series (PGS) Spring 2018 (Top 4 - 2018 PGS Spring Split), while the other 4 teams will be determined through a series of online qualifiers.
A prize pool of PHP 200,000 is awaiting the participants of the first-ever Nexus Cup!

Prize Pool Breakdown
Champion: 100,000 PHP
2nd Place: 50,000 PHP
3rd Place: 30,000 PHP
4th Place: 20,000 PHP
Tournament Details:
- Registration is absolutely free!
- At least five (5) members using LoL PH Summoners Account
- Clan tags are NOT required.
- No rank requirement for this tournament.

- Teams may consist of five (5) – six (6) team members (5 main & 1 sub).

- Players are required to provide their real names and User ID.

- STRICTLY NO CHANGING OF SUMMONER NAME DURING THE EVENT
- In the event that names will change or have changed (to IHeartLoLxxx) due to our ruling about "Summoner Names and Special Characters" (link for reference: https://goo.gl/Rboeay), their respective GUIDs will be investigated for this matter.
- Only registered players are allowed to participate.
- If your team has registered but did not make it in the final list, it would be any of the possible reasons: the team incurred duplicate team members (same member across different teams), the team didn't meet the criteria for qualifying this tournament, etc.
- Rules may change without prior notice
Link to the PH Open Tournament Official Rules: http://bit.ly/PHRuleset
Interested? Register here.
---
Frequently Asked Questions:
Q: Is it okay to change our IGNs?
A: No, we are not allowing summoners to change their IGNs after registering and before receiving the prizes.
Q: What will happen if i changed IGN?
A: You will be suspended until you revert it and the worst case, you may even void your prizes.
Q: What will happen if we insist to play after changing names?
A: Your team will be disqualified.
Q: What if the opposing team has a member that has different IGN from the registered roster?
A: Please inform us in our inquiry thread. Feel free to play against them if there's no immediate response from us, we will ultimately decide their fate, IGNs that is not of typo error will have their team disqualified when played, however.
Q: What should i do when i was asked to change name by another Garena-hosted tournament?
A: Different tournament's requirement has nothing to do with the Nexus Cup even if they are both Garena-hosted, you will have to choose which tournament to prioritize should their rules, requirements or schedules overlaps.
Q: What if my registered member does not belong to my team anymore?
A: Please inquire it in our Petition Form before the very first round of the tournament, in the case that your member left during the on-going tournament, you will have to proceed disadvantageously without that person.
Q: Can we change member?
A: No. Your team will be disqualified if you did play with the new member.
Q: What if there's an error with our team roster?
A: Please inquire it in our Petition Form.