Independence Day RP Conversion Milestone
Posted on 06/12/2018 by LoL PH Admin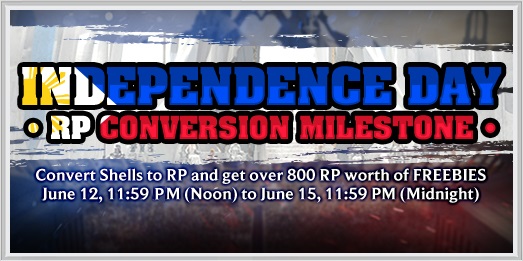 Convert Shells to RP and get over 800 RP worth of FREEBIES!
Event Duration: June 12, 12:01 PM to June 15, 11:59 PM
Mechanics:
1. Top up any amount from June 12 to 15, 2018
2. Accumulate a certain amount of RP to reach a milestone.
3. For each milestone you hit you will receive a certain Loot Item
4. The more milestones you reach, the more items you will receive for free!
Rewards
| | |
| --- | --- |
| Milestone | Freebie |
| 50 | Hextech Key |
| 100 | Hextech Chest |
| 250 | Bloodharbor Medallion |
| 500 | Mystery Emote |
| 1000 | Cursed Capsule |
| 2500 | Golden Kraken |
---
Find Airpay retailers near you here
Get shells here