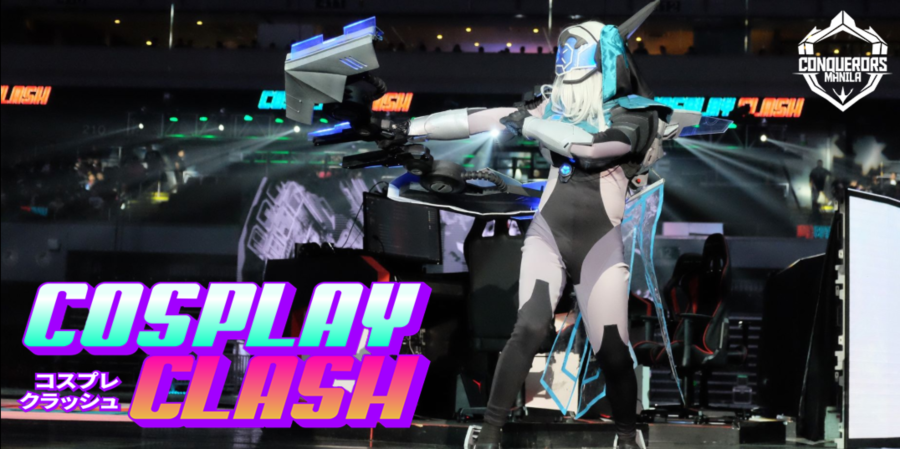 Get ready to witness your favorite League of Legends champions come to life once more as we bring you exciting cosplay competitions at the Conquerors Manila 2019 - Powered by Globe this year!
This year, Cosplay Clash is divided into 3 parts: Cosplay Clash 2019, Honorable Wandering Champions and Low-Cost Cosplay
Cosplay Clash (Duo)
Cosplay Clash 2019 is this year's main competition for League of Legends cosplayers. Ten (10) participants (solo or duo) will be selected to flaunt their craft for a chance to win a lion's share of the P220,000 cash prize pool!
Honorable Wandering Champions (Solo)
Honorable Wandering Champions welcomes walk-in solo cosplayers for both Day 1 & 2 and bag home in-game items!
Low-Cost Cosplay
Low-Cost Cosplay is a battle of wits and creativity as contestants must showcase their art in a resourceful way—using everyday items to portray a hodgepodge character of their choice! Winners will get to take home in-game items!
How to join:
1. Cosplayers may register via this link [google form]
**For Cosplay Clash Duo one representative can submit their entry providing all details for their tea
2. Cosplayers may choose which cosplay competition they would like to join - Cosplay Clash (Solo or Duo), Honorable Wandering Champions (Solo), Low-cost Cosplay (Online Only)
3. Cosplayer should fill up the forms accordingly and submit photos required

Note:
- The number of photos varies per cosplay competition
- Files must be in .jpg format and the size should not exceed 10MB
4. Registration is open until October 18. For Low-cost cosplay, we will be announcing two (2) winners on the following dates: Sep 19, Oct 3, Oct 17. Each winner will get 5k RP as prize!
5. On Costumes & Props
Cosplayers may only cosplay official League of Legends Champion, Character or Skin.

Genderbend cosplays are not allowed, however, cross-dressing is allowed.

Costumes revealing private parts or displays nudity shall be disqualified.

Props such as weapons must be made from non-metallic materials and may not include liquids, gels, or other messy substances
6. On Cosplay Clash 2019 (Solo or Duo)
Top 10 participants will be contacted via email for a short interview in which they need to submit a self-introduction. This can contain the purpose of participating, understanding of the image cosplayed, creating experience etc. Please submit no more than 300 words in English.

The Top 10 Selected participants will then be announced on LoL PH Facebook Fanpage on October 21 for online voting.

Cosplay Clash 2019 will be on October 27, 2019 and will start approximately (12nn). For attendance and good-to-go signal, the top selected participants must be at the event, confirmed ready by 11AM fully dressed.
7. On Honorable Wandering Champions (Solo)
It is important that you wear your costume with you on the line. If you don't wear it, you will not be considered as a participant. There will be 2 dedicated CR for cosplayers.

Honorable Wandering Champions will be on both October 26 and 27. For attendance, please proceed on the Cosplayers Area and confirm your attendance on or before 2pm.
8. On Low-Cost Cosplay
We will be selecting 2 winners every other week which we will be announcing on LoL PH Facebook Fanpage.

Cosplayers can only win once, if you have been previously selected as a winner, you cannot join the following week.
Reminders
Upon registration, the cosplayer acknowledges that he/she have read, understood and accepts the mechanics and rules for Cosplay Clash. Registration and participation in the Cosplay Clash competition constitutes that the Participant gives the right and authority to the Organizers, its staff, partners, sponsors and authorized press media to take pictures and/or videos of registered cosplayers, cosplay groups and its members. All said pictures and/or videos will be the sole property of the Organizer, its staff, partners, sponsors and authorized press media to be used for future publications and/or advertising promotions.

Cosplayers will need to pay for their own tickets. For Top 10 pairs, we will be providing a gate pass but it is up to you if you want to purchase your own ticket

Cosplayers attendants will need to purchase their own tickets. (Only 1 attendant is allowed per cosplayer and there will be a dedicated entrance for cosplayers)

Cosplayers must be able to easily maneuver their costume over stairs or ramps unassisted.

Cosplayers are allowed to have a maximum number of two (2) human props on-stage.

Human props must only wear black and are responsible for cleaning up the mess after the skit.

Obscene or Vulgar language and acts will not be tolerated.

Cosplayers must bring their own audio soundtrack.

All cosplayers must be on their full costume and ready by the stage 15 minutes before the catwalk.

Each pair will be given 5 minutes to perform their skit and present their costumes.

The Organizer and its partners shall not be held liable for any damage, injury and/or death sustained during the event.

Upon registration, the cosplayer acknowledges that he/she have read, understood and accepts the mechanics and rules for Cosplay Clash.
Criteria for Judging
Accuracy - We will be checking how accurate your costume is to the character you are cosplaying. From the hair and props up to the tiniest details

Presentation - Be the character! This includes your poses your facial reactions and your overall appearance as the character you are cosplaying.

Craftsmanship / Quality - Handmade costumes is a plus! We'll check on the quality of your costumes and armors how you mastered the art of bringing the champions into life through cosplay.

Popularity - LoL PH Community will get to contribute into this years competition through Facebook voting.
Prizes:
1st place ₱80,000.00 +15000 RP

2nd place ₱40,000.00 +10000 RP

3rd place ₱20,000.00 +7500 RP

4th place ₱15,000.00

5th place ₱15,000.00

6th place ₱10,000.00

7th place ₱10,000.00

8th place ₱10,000.00

9th place ₱10,000.00

10th place ₱10,000.00
FAQs
1. Can I bring an attendant with me to help me fix my costume?
Cosplayers can only bring one (1) attendant each
2. I belong to the top 10 Cosplayers, will I get a free pass?
Top 10 cosplayers for Cosplay Clash competition will get a free pass. To clarify, this pass DOES NOT include swags. You can still purchase your own ticket so you can claim your swags.
3. Can I use some audio during my skit?
Participants may provide an audio soundtrack to be given upon registration. This will be played during their respective judging performance. Please ensure the file(s) adhere to the following specifications: i) The music soundtrack should be in .MP3 format, ii) Should not be longer than 2 minutes iii) Must be burned in a CD or saved in USB.