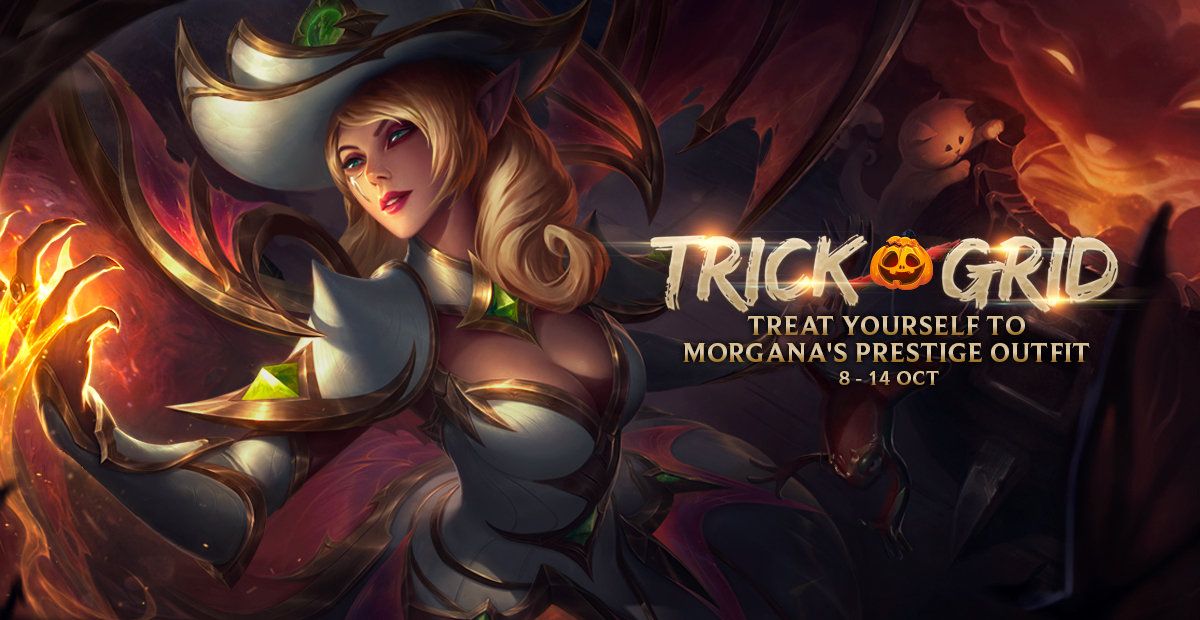 Win the all new Bewitching Morgana Prestige Edition in this event - Trick-o-Grids!
EVENT MECHANICS
Spend 99 / 450 RP to draw 1 / 5 prize(s) from the 9 options randomly & gain 🎃!
‣ Tip: You can exclude up to 2 prizes that you don't want on the board.
‣ Note: It is possible to draw multiple prizes of the same option when performing a 5 draw!
Each prize corresponds to a random amount of 🎃 which earns you milestone rewards!
Gather 🎃 to receive these milestone rewards

:


‣ 20 🎃: Worlds Orb
‣ 55 🎃: Random Epic Skin / Halloween skin of choice
‣ 100 🎃: Bewitching Morgana Prestige Edition / Arcanist Zoe Prestige Edition / 13 x Worlds Orbs
You can click on the reset button to reset your milestone progress.
To view the event, simply click on the TRICK-O-GRIDS button in the client.
Be quick, as the event ends 11:59 PM, 14 October (GMT+8)!
Some commonly asked questions:
Q: What if I do not own the champion for the skin I've chosen?
A: If you do not own the champion for the skin selected, it will be sent together with the skin.


Q: I accidentally bought something I didn't meant to!
A: All items are sent directly to your account and hence the Store's Refund Policy does not apply - please read the event rules carefully before you commit!

For any questions and/or issues encountered in relation to this event, please contact Garena Customer Support.