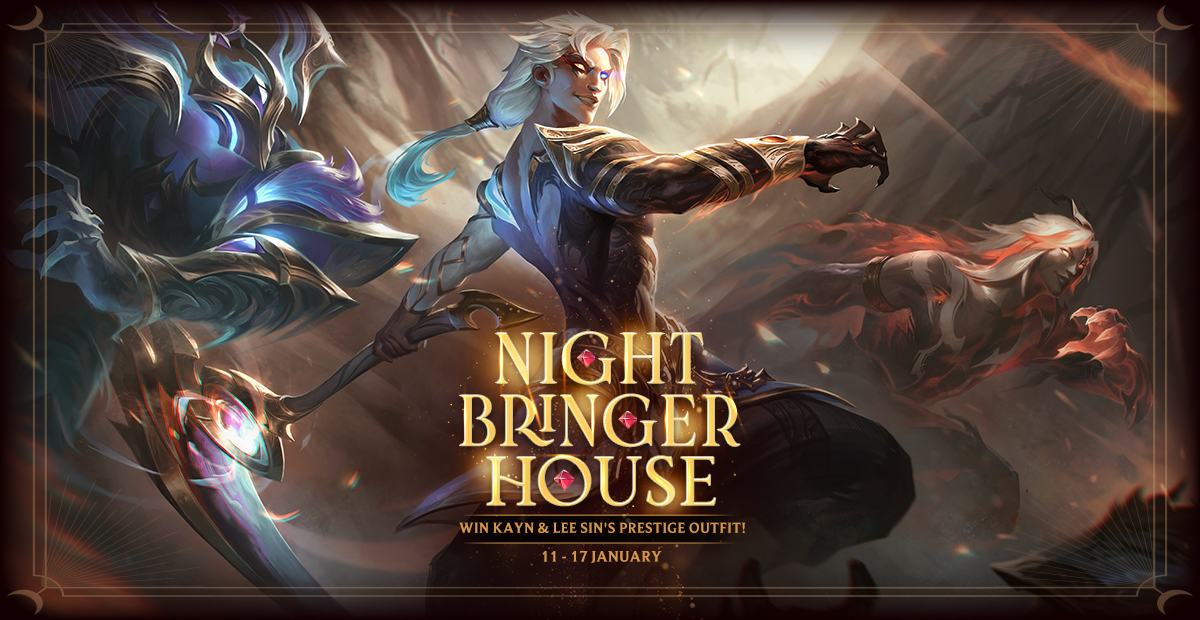 Stand to win Kayn and Lee Sin's prestige outfit in this returning event - Nightbringer House!
Event Mechanics
1. Spend RP to flip a tarot card & receive it's corresponding reward!
- RP cost increases as you open more cards as such: 69,99,139,189,249,319,399,399 RP.
- Your first round is discounted as such: 19,69,109,159,219,289,369,399 RP!
2. There are 8 tarot cards corresponding to these rewards:
a. Jewel x 1
b. Jewel x 1
c. Jewel x 3
d. Hextech Key or Chest
e. Hextech Items
f. Hextech Items
g. 2 x Debonair Orbs
h. Debonair Bag or Lee Sin Prestige
3. Accumulate jewels for milestone and jackpot rewards!
Milestone rewards
- 6 Jewels: Debonair Orb
- 11 Jewels: Debonair Corsage Pack
- 15 Jewels: Nightbringer Kayn Prestige Edition
Selectable jackpot reward
- 5 Jewels: 5 x Debonair Orbs / Epic Skin of Choice
4. You can reset all your tarot cards anytime using RP - milestone and jackpot will NOT be reset.
- RP reset costs increases each round: 29,99,169,249,299 RP max.
To view the event, simply click on the NIGHTBRINGER HOUSE button in the client.
Try your luck in the client from now until 17 January 11:59 PM GMT+8!

For any issues encountered in relation to this event, please contact Garena customer support.